International Women's Day by Jane Aubriet-Beausire
Should we be celebrating on International Women's Day?
International Women's Day by Jane Aubriet-Beausire
A national holiday in numerous countries, it has been sponsored by the United Nations (UN) since 1975. International Women's Day (IWD) is a global day of celebration that focuses on the history of women, their challenges, and how we continue to break down barriers to equality, equity, opportunity and wellbeing. I'd love to say that this day does nothing but inspire me, but it doesn't – it also makes me angry and I wish it was not a day, when the wins, challenges and opportunities are celebrated and shared, but a mindset that pervades absolutely everything we do in our organisations, communities and institutions.
I do want to honour and celebrate those who are making a difference in this space, individuals, and organisations, but I know that we still have so much to do.
Examples include urgent support for the 356,000 pregnant women in Turkey and Syria who need access to health care following the earthquake, to ongoing support for the 3.5 million teenage girls in Afghanistan who can no longer go to school, we also need to continue acknowledging the disparities in our organisations that contribute to more women leaders choosing to leave their companies than ever before – to give you a figure, for every women leader promoted to the role of director, two will leave. (Source: Women in the Workplace 2022, LeanIn.org and McKinsey 2022).
When was the last time you asked a female colleague about their experience of working within your organisation?
Why they chose to join the company? What they enjoy about their role and the organisation? Whether they've experienced any challenges or a lack of fairness as a woman and what this looked or looks like? What they would love the company or individuals within the company to stop doing, do more of or completely change for women? Finally, is there something you can do to support them?
Once you're on a roll, you might also discover more about what they have experienced in their careers and what advice they would give for us all to be better allies?
By doing this we learn from each other, and we also understand what it is like for those who are women, but who also come from other diverse backgrounds in terms of race, neuro-diversity, disability and family circumstances for example. Have the conversations with others, not just today but on an ongoing basis, not just in your company but also with friends and members of the communities you live in … do we really know what others experience? Let's stop making assumptions and start hearing what's real for others.
Profound change and transformation come from awareness and understanding, which can then lead to changes in behaviour and mindset, which in turn affect culture and values – not just for companies but also for communities. It all begins with a commitment and a conversation.
So, will you take up the challenge?
We believe leadership and equity matters one conversation at a time.
Realise: Women's leadership programme helps individuals and organisations to challenge systemic bias.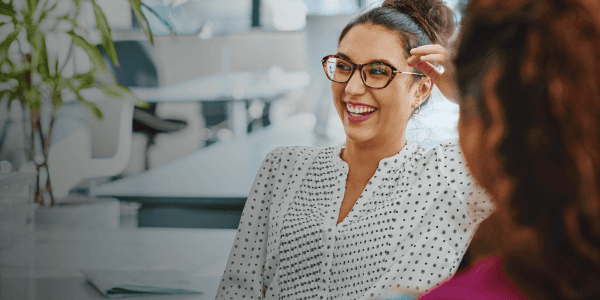 article
Realise: Women's Leadership Programme
Read more