Leading with emotional intelligence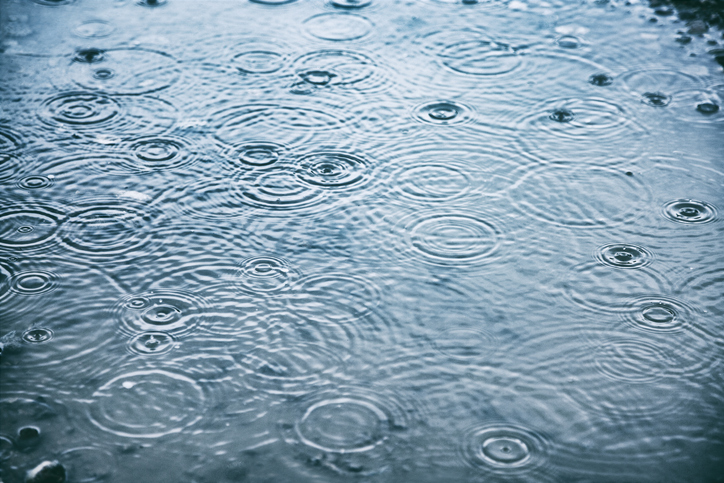 Our Client: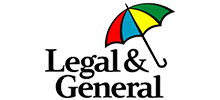 This is the story of how Legal & General (L&G)'s Insurance Customer Service Division embedded The Oxford Group's '5 Conversations' approach to suit L&G's focus on emotional intelligence. As you'll see, it proved to be a great decision, with everyone from senior leadership to first-time managers seeing its relevance and embracing its principles – and it measurably improved both the employee and customer experience.
Our client's needs:
Investment in the development of soft skills, such as emotional intelligence, can be hard to justify. Particularly in customer service settings, which tend to focus on improving hard performance metrics, like speed and success of resolution. Yet the benefits of developing these important people skills can be just as substantial. If you've ever needed to make an investment case by proving the link between boosting soft skills and improving hard performance metrics, this case study is for you.
L&G had been focussed on creating a coaching culture for several years. In 2018, the results of the L&G annual coaching survey were positive. For example, scores for team members saying 'my manager promotes a healthy coaching culture' were at 88%.
However, within L&G's Insurance Customer Service Division, there was a determination to make things even better.
The aims were to:
Improve scores relating to the coaching culture even further.
Improve scores in the wider employee engagement survey.
Impact positively on more conventional contact centre measures (such as C-SAT).
The L&G Learning team began to search for methodologies that could help achieve these goals. While attending an event run by The Oxford Group, the '5 Conversations' emotional intelligence-based approach to leadership resonated with the strategic needs of the business.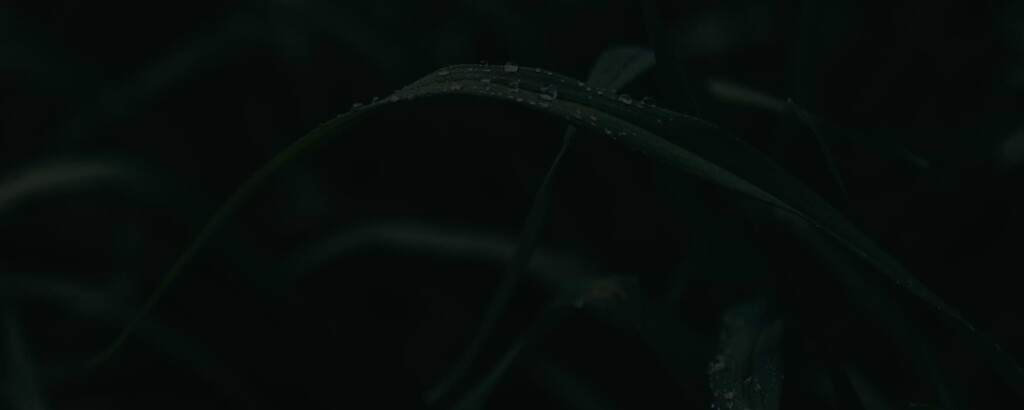 Our solution
Instead of using external facilitators, L&G decided to customise and deliver the learning in-house. A programme would be embedded in the company as part of its learning and engagement strategy, making it relevant to each business area and leadership level, as well as future-proofing it to deliver long-term results.
The L&G Learning and Development team became licensed and accredited to deliver '5 Conversations' in July 2020, just three months after gaining senior management approval. They developed a ten-month course entitled 'Leading With Emotional Intelligence' (LWEI).
Rather than wait until the programme could be delivered in a physical classroom, the first cohort of managers from the Insurance Customer Service Division began the course online in September 2020. By the end of 2021, the L&D team had delivered the programme to more than 130 managers.
The '5 Conversations' methodology forms the scaffold for LWEI (see above), but the reason it has been so successful is because of the close alignment to the L&G business and its delivery by L&G people. The programme comprises a number of touch-points, from one-to-ones to webinars, videos, and workshops, all delivered virtually. Some examples of how the programme has been customised for L&G include:
21-week workout, with tailored email reminders to participants to live the values taught in the programme.
Bespoke videos: The team wrote scenarios that were relevant to L&G employees, to ensure the context was unique to the L&G environment.
L&G resource hub: Bespoke online resources and support materials.
Team workouts: One-page activities written for managers to use in team meetings.
Additional touch-points, including peer coaching observations and supervisions, as well as structured opportunities to practice new skills.
Programme flexibility: A major advantage of conducting the programme in-house is the ability to make changes to timetables and content without incurring extra costs.
As the programme has matured, several elements have emerged as long-term improvements, including:
Buddies: Learners are buddied up with managers from different departments, with the pairs encouraged to support each other, meet between sessions, share learnings, insights and experiences. What started as a mandated part of the learning journey turned into powerful alliances. Many have reported that it's what kept them positive during the difficult months of the pandemic.
5 Conversations book club: Beyond the specific programme, LWEI has spawned a number of book clubs amongst teams.
Sharing stories events: Opportunities for groups to meet four-five months after completing the programme for a two-hour session to share experiences of using the conversations.
One learner commented: "It's been the most useful leadership development programme. I loved the interaction with other managers sharing best practice and challenges, but most importantly the knowledge and tools I gained in building meaningful and trusting relationships with my colleagues has been invaluable."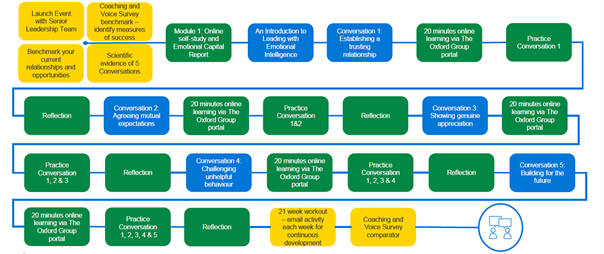 The outcome
The LWEI programme is very involved, with learners expected to attend one training session a month, with time to practice, reflect and discuss with colleagues in between. In spite of this, attendance was 99% throughout the programme. Moreover, 100% would recommend the programme, and it was rated very positively:
LWEI is much more than an enjoyable, well-run course. It's also having a big impact on how employees feel at work and, crucially, how they are performing.
In March 2021, L&G's 'Voice' employee engagement survey demonstrated a marked improvement in confidence at work:
Scores for 'I feel free to speak out without fear of negative consequences' rocketed from 64 to 74. In the control group of equivalent divisions not impacted by LWEI, the change was 57 to 68.
Employee satisfaction increased from 74 to 78 in impacted teams.
The 'Coaching Survey' conducted within Insurance Customer Service highlighted improvements year-on-year. Scores increased for:
'My manager promotes a healthy coaching culture': 91% to 96%.
'The level of trust you have in your line manager': 8.67/10 to 9.09/10.
'My line manager shows me genuine appreciation': from an already high score of 93.31 to 97.26.
'Coaching competence': 36.06 to 37.77 (seven questions based on a scale of 1-6, with a maximum score of 42).
All of this has had a positive impact on employee retention, with staff turnover dropping from 9.1% in 2019 to 6.6% in 2020 (in contrast to 11.9% for L&G companywide in 2020).
In turn, a more positive employee experience is having a tangible impact on the customer experience, with NPS scores rising across Insurance Customer Service, from 41 (October 2020) to 47 (August 2021).
As these results show, enhancing a coaching culture by putting emotional intelligence at its heart has had a huge impact. The LWEI course has demonstrated how focusing on important soft skills can have a tangible, measurable effect on culture and on performance. Based on these results, as well as the glowing feedback received from learners (see right), the course has become business as usual in the Insurance Customer Service Division – and is being rolled out to other departments.
"Praising someone via email or Teams chat can be seen as a tick-box exercise, but I now know through LWEI that putting a headset on and calling someone to thank them actually means a whole lot more." RP Underwriting.
"Found the course really useful, and am able to apply the principles in all aspects of daily coaching and management of my team. The positive effect this is having on my team is clear." CS Contact Centre.
"I've really enjoyed the course and it's encouraging to know we work for an organisation that is managing in this modern and dynamic way." CAS Admin, GI & Webchat.
"Found the course really useful, and am able to apply the principles in all aspects of daily coaching and management of my team. The positive effect this is having on my team is clear." CS Contact Centre.
"I've really enjoyed the course and it's encouraging to know we work for an organisation that is managing in this modern and dynamic way." CAS Admin, GI & Webchat.