Embedding Emotional Capital into your leadership programmes
The world's most advanced Emotional Intelligence assessment
Measure and develop Emotional Capital
RocheMartin Emotional Capital Reports (ECRs) represent an innovation in the measurement of Emotional Intelligence and the building blocks scientifically linked to leadership behaviours.
The ECR is underpinned by an analysis of 142+ scientific papers and the largest normative sample of more than 180,000 profiles of the highest performing leaders.
The use of the ECR has been proven to significantly improve a person's self-awareness of this fundamental element of human behaviour.
The Emotional Capital Report is available as the ECR Self (a self-assessment) and the ECR 360 (including multi-rater feedback). This tool will enable your leaders to understand how emotions shape their thoughts and actions in order to gain greater control over their behaviour and performance as a leader.
ECR Self
The ECR Self provides an emotional intelligence score based on 10 leadership competencies using a global scientific measure. In just 15 minutes, the ECR delivers scores on the 10 Emotional Intelligence skills that research has found to be linked to professional performance.
The ECR Self provides narrative descriptions of the leadership behaviours associated with each score.
Coaching strategies for developing greater emotional intelligence and leadership abilities.
An action plan to design a personal blueprint to build emotional capital.
An 60-minute debrief and coaching session from an accredited ECR facilitator.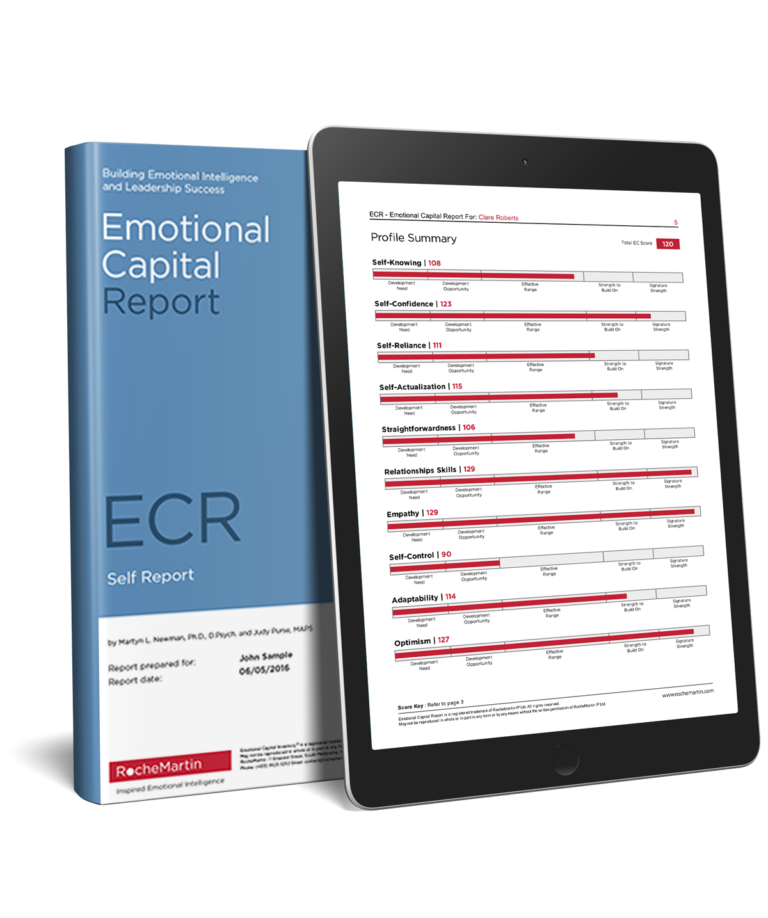 ECR 360
Our ECR 360 Multi-Rater Report uses a broader evaluation methodology to give a more rounded view of performance, making it ideal for leadership development programmes, executive coaching, and personal development.
Understand the differences in perception by combining responses from chosen raters and compare these scores to 'self' scores.
View detailed responses from raters via a verbatim section containing open-ended questions.
Receive tailored coaching strategies for improving performance based on the examination of particular factors where Self scores and Rater scores are significantly different.
A 60-minute debrief and coaching session from an accredited ECR facilitator.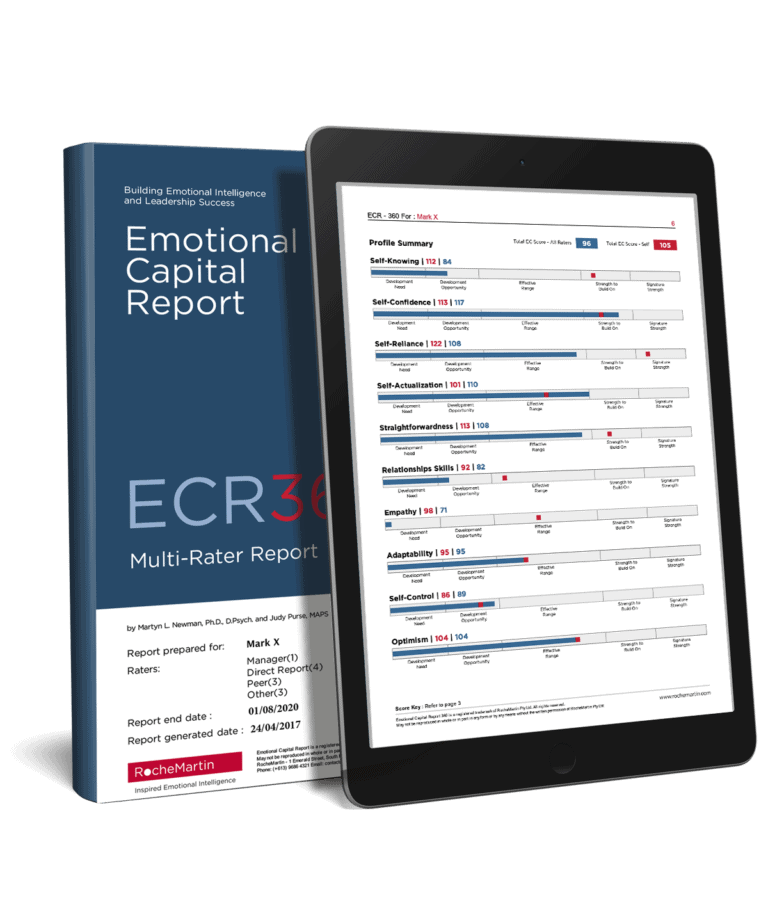 Multilingual
The ECR report is available in a broad range of languages, giving participants the capacity to benefit from RocheMartin's
expertise wherever they are in the world.
Prices
Pricing is based on a minimum number of participants and includes a 60min debrief from a RocheMartin ECR accredited facilitator.
• The price per participant for the ECR Self is 880€ / £670 / $1,360
• The price per participant for the ECR 360 is 960€ / £740 / $1,440
Although we would advise an ECR to include a debrief, the survey and report are designed to be easily read by respondents. Consequently, you may use this as a standalone report and embed it into an existing solution.
• The price per participant for the ECR Self standalone report is 160€ / £110 / $160